Would you like to see a garden that needs no watering, no digging, no fertilizing, no weeding and produces fresh, organic food on auto-pilot, year after year? One that can yield up to 8 times more produce than traditional gardens1, to feed you and your family in times of crisis with some of the healthiest, tastiest, most nutritious food you could possibly eat… and it can fit right in your back yard.
This amazing food farm works under some of the most extreme weather conditions, in places such as the Jordanian Desert, South Africa, China, Australia and in every corner of the United States, including Alaska.
Because of the brilliant way in which it is designed, this survival garden is completely hidden in plain sight from nosy neighbors and the hungry looters that will roam the streets post-collapse in search for food. NO ONE will ever figure out that you have an endless supply of food right in your backyard.
In this pocket-sized Paradise, fruit trees, veggies and medicinal plants all live together in perfect harmony… taking care of each-other… surviving and thriving the way they did for hundreds of thousands of years: without human intervention.
A permaculture garden or farm is truly a slice of Heaven: flowers, veggies, fruit trees, bees, insects, worms, tiny microorganisms, weeds and even backyard animals are all part of this perfect ecosystem that thrives under one condition: that you don't mess with it.
I'm talking about beans, potatoes, carrots, spinach, squash, berries… and hundreds of other plants and fruit trees… all on auto-pilot, all regenerative.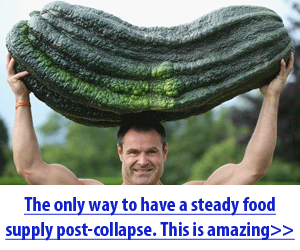 This special type of garden can feed yourself and your family in times of crisis and is actually healthier than gardening and is perfect for survival purposes. It is called permaculture and it's a method of replicating nature's way of growing food with little effort in your own back yard.
My two gardening experts and I created the only true survival gardening course on the market, that will ensure you always have a "stockpile"… Learn all about it here